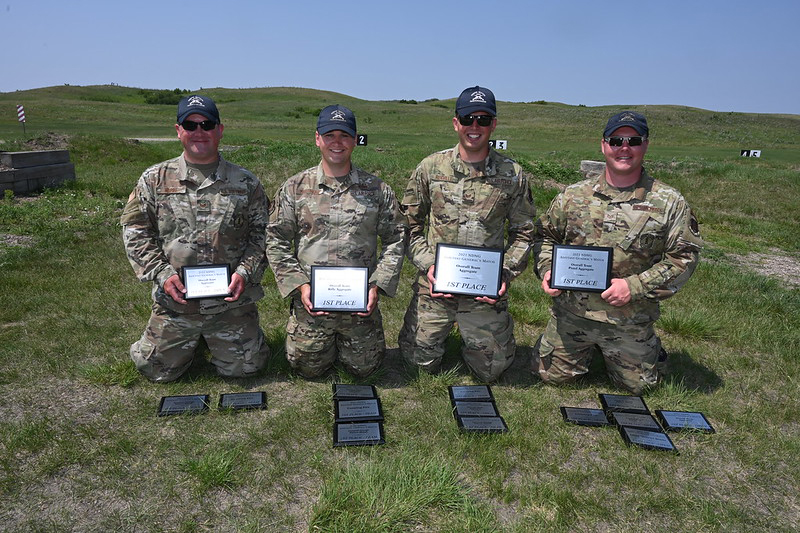 Awards & Nominations
Our purpose: To educate, advocate and promote the well being of our state and nation. Now and forever – We are the Guard!
North Dakota Roughrider Award Winners
This award is given to someone who is recognized by the contribution of an individual who has given back to not only their respective association, but has put in the time and effort to better both organizations, therefore impacting the lives of Guardsmen both Officer and Enlisted…
2022 – SFC Chuck Votava
2021 – SMSgt (Ret) Chuck Kasin
2020 – Maj Gen (Ret) Michael Haugen
2019 – CPT (Ret) Randy Fuss
2018 – Carroll E. Quam
2017 – Col Christopher Domitrovich
2016 – MG (Ret) David Sprynczynatyk
2015 – SGM (Ret) Roger Johnson – Posthumously
---
2023 NGAUS Awards
Meritorious Service Certificate
For Individuals who demonstrate outstanding performance or achievement as recognized by the state Adjutant General and association.
MAJ Alan J. Roehrich
While mobilized to the National Capital Region in support of Operation Noble Eagle, MAJ Roehrich was required to assume command due to unforeseen circumstances. He remained in the position for the duration of the deployment leading the 1st Battalion 188th Air Defense Artillery Regiment. MAJ Roehrich's air defense expertise earned him national recognition and placement on the Air Defense Tiger Team where he advised general officers on issues and challenges facing the air defense community.
Maj. Daniel J. Sly
As the 119th Communications Flight Commander, Maj Sly led the design, engineering, and installation of a leading-edge communications infrastructure project to include a core fiber optic mesh network. The new network provides a more robust, resilient, and faster capability. He also spearheaded the creation of a cyber defensive operations director position to lead current and future mission needs. Finally, Maj Sly served as an expert panel member for two separate Fargo-Moorhead-West Fargo Chamber of Commerce events.
---
Theodore Roosevelt Leadership Award for Company Grade Officers
Established to annually recognize the achievements and dedicated service of Army and Air National Guard junior officers who have demonstrated outstanding leadership and professionalism in their services to country and community.
Capt. Cody L. Chick
Capt. Chick serves as the 219 Security Forces Operations Officer and overseas 80 personnel performing continuous nuclear security responsibilities for Global Strike Command at Minot Air Force Base. He was hand-picked as a nuclear convoy commander, which requires extensive training and formal appointment. In addition to his duty assignments, Capt. Chick is a very active volunteer and contributor within his local community.
CPT Connor J. Kelley
As the 426 Signal Company Commander, CPT Kelley increased end strength over 100% with an extremely low attrition rate. His approach of putting Soldiers first created a positive command climate leading to his troops putting in extra effort. In support of his battalion, CPT Kelley played a critical role in the planning and execution of 6 large-scale training exercises encompassing almost half of NDNG Army personnel.
---
Eagle Rising Award for Warrant Officers
Established to annually recognize the achievements and dedicated service of Army National Guard Warrant Officers who have demonstrated outstanding leadership, technical skills, and professionalism in their services to country and community.
Chief Warrant Officer 2 Michael J. Mahon
As an experienced Engineer Warrant Officer, Chief Mahon facilitated the redesign of a large warehouse to construct a hasty medical treatment facility on Camp As Sayliyah, Qatar. The project directly impacted the treatment and processing of over 3,000 at risk Afghan refugees. Additionally, he coordinated the construction of 92 projects in the Eastern Syria Security Area amounting to $1.7 million in force protection and base quality improvements.
---
NGAND reaches 100% Membership Status
he National Guard Association of North Dakota received its third consecutive 100% membership award with the percentage based on the number of lifetime and annual members in NGAUS.
The NGAND team accepts their third consecutive 100% NGAUS membership award at the National NGAUS Conference in Reno, Nevada on August 19, 2023. Pictured from left to right, Maj Gen (Ret.) Randall Simmons, NGAUS Membership Committee Chair; MG Alan Dohrmann, NDNG Adjutant General; Maj Nick Hanson, NGAND Chairman; Maj Brett Nelson, NGAND Executive Director; MG Janson "Durr" Boyles, Chairman of NGAUS Board of Directors.
---
The 119th Wing won three separate awards at the National NGAUS Conference held in Reno, Nevada from August 18-21, 2023.
Distinguished Flying Unit Plaque – The NGAUS Distinguished Mission Support Plaque is awarded annually to the top five flying units in the Air National Guard.
William W. Spruance Safety Award – Presented to the Air National Guard unit which makes the most significant contribution to accident prevention.
Major General John J. Pesch Flight Safety Trophy – Presented annually to two flying units judged to have demonstrated the highest standards of flight safety in the Air National Guard.
---
2023 Officer of the Year Winners
Outstanding Field Grade Officer
MAJ Alan J. Roehrich
North Dakota Army National Guard
Outstanding Field Grade Officer
Maj Daniel J. Sly
North Dakota Air National Guard
Outstanding Company Grade Officer
CPT Connor J. Kelley
North Dakota Army National Guard
Outstanding Company Grade Officer
1Lt Cody L. Chick
North Dakota Air National Guard
Outstanding Warrant Officer
CW2 Michael J. Mahon
North Dakota Army National Guard